It's accepted that the first CRM started with humble origins – a list of names and numbers on a VisiCalc spreadsheet on an Apple II sometime around 1979.
Obviously, we've all come a long way since '79, and today's technologies that drive customer relationship management may differ radically but they all aim for the same goal. To know more about their customers and consistently provide experiences that delight them.
At Salentica we channel this mission into our niche -- Financial Services. Leveraging our experience, customer feedback, and the latest technology to create and refine our industry-specific CRMs.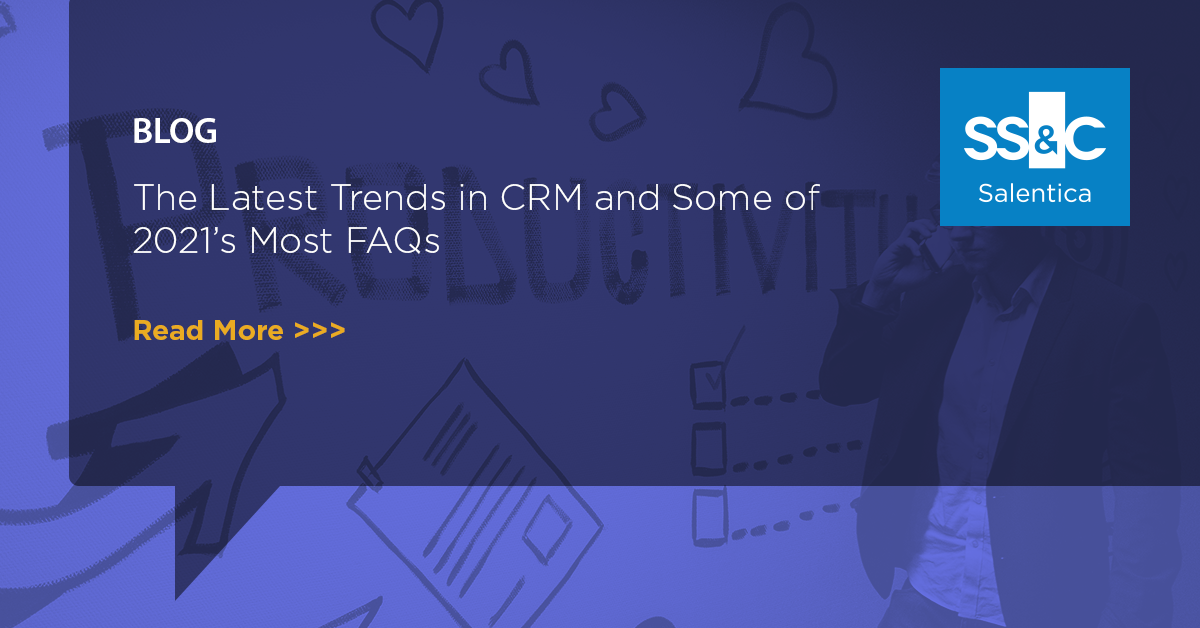 Along the journey, we keep records of notable questions, track innovative client workflows, and roadmap the latest technology updates.
Here are the results to date.
The Latest Trends in CRM
The Mobile CRM Experience
An evolving area before the pandemic, mobility was always going to be a trend to watch in the CRM space. If anything, the focus has only increased since people began working solely at home.
The pandemic highlighted the need for accessibility from anywhere, at any time. And while most companies were forced to adapt overnight -- here at Salentica we felt positively positioned to tackle and comment on this challenge. Being that we develop and rely heavily on our own CRM to connect in-office and remote teams while managing our business in totality.
This increased focus on the mobile CRM experience is going to manifest itself into universal apps that work seamlessly across platforms. Allowing sales managers to transition between an online and offline environment without hindrance to their work.
Mobile CRM solutions benefit from enhanced forms of security and intuitive interfaces, and that will be very appealing to the new remote workforce.
There are many benefits to mobile CRM, including accessing dashboards on the go, dialing into meetings with click-to-call, and opening and sharing files wherever you are–not to mention the ability to respond to customer service cases and automatic updates that are universal across platforms.
Automations/Workflows & AI
The rise of AI (Artificial Intelligence), which was predicted for years is upon us -- for better or worse.
But how does that relate to CRM? Well, in many ways.
The use of predictive analytics can use existing data stored in a CRM system to make authoritative predictions or forecasts that can significantly improve business. As exciting as AI is for the CRM category this is a developing piece of tech, and while improvements are progressing quickly, we're still some way off from this impacting every user, every day.
Automation
Automation can be a deceiving word in the CRM category -- surfacing ideas about machines doing the hard work for us. In reality, automation is a process that automatically records and stores email and phone interactions.
Data entry automation — Salespeople spend 17% of their day on data entry. Implementing data automation through your CRM system is a huge time-saver that addresses a major pain point for those in sales.
Log all customer interactions automatically — Your CRM tool should be able to automatically log phone calls and email interactions with your leads each time you engage with them. By keeping your contact records up to date through automation, you always have the most up-to-date information on where a lead stands during the sales process.
Workflows
Maintaining successful relationships with clients can be done by managing successful workflows in your CRM platform. Mapping out workflows and communication needs will help you and your staff elevate service and connect front and back-office teams..
CRM workflows will continue to transform the way your firm operates.
Growing in capabilities, they will start to handle more complex tasks, and reassure compliance teams, that manual data entry, deadlines, and documents are not error-prone or lost.
Industry Specific
Firms are thinking about how much complexity their firm can handle and how much time they are willing to spend setting up software. Understanding that not all CRMs (including generic and industry-specific) are made the same. Systems and companies offer different services and some are easier to use than others.
Users will continue to see and expand on the benefits of using industry-specific software. The instant familiarity the feel on day one will become more powerful and ease learning curves. Understanding that many of the developers of these CRMs generally have a greater understanding of industry needs and procedures. In addition, these purpose-built CRM systems usually contain industry-specific features that help businesses of all sizes streamline processes.
Generic CRMs generally require more manpower, more resources, and more time to process the same amount of business as if you were to use an effective, industry-specific piece of software.
Some of 2021's Most Popular CRM FAQs
We have an ongoing report with our customers. During routine conversations we keep a collective list of frequently asked questions, here are some of the most common from that list.
Can I track financial accounts inside CRM?
Yes. While all of your active tracking and trading should still be done in a separate portfolio accounting system, we integrated with most of them and are able to bring account values into CRM to monitor trends, track changes over time, help with client segmentation, or any other initiative you may have.
You can also set financial goals based on the individual or family for your clients, allowing you to build, share and document strategy.
Can I track leads and referrals?
Yes, it is easy to understand where your referrals come from with lead and referral tracking. You can customize the stages that your leads progress through to meet your sales stages or business goals. But you have complete visibility and control throughout the lifecycle, including tracking acceptance and conversion.
Can you send bulk email?
Yes. You can send an HTML or plain text email to your whole contact database or a segment of your contact database.
Where CRM bulk email capabilities stop short is in advanced functionality or analytics -- like open and click rate statistics, A/B testing functionality, or email automation. For that, you'll need marketing or email software.
Can ALL Emails be tracked in CRM?
It's not advisable from a storage perspective to track all emails, especially every incoming email.
There is an "All email messages" personalization setting which tracks emails that are incoming and not outgoing that you can turn on.
If this is a must-have there are some server-side rules you can put in place to achieve this.