2021 Engage CRM Platform & Data Broker™ Updates
Learn about the recent release features, what they mean for you, and how you and your firm can put them to work!
You've heard us say it before - we stand on the shoulders of a giant.
The giant in reference here, Microsoft, just released its latest platform updates. As a Salentica Engage client, you get full access to everything it has to offer.
This article aims to provide insight into key platform updates and recent Data Broker enhancements. Both of which are automatically absorbed and usable within Engage.
HOW TO USE THE RELEASE NOTES
Our release notes offer brief, high-level descriptions of enhancements and new features. We may also include setup information, links to external articles, tips to help you get started, and best practices to ensure your continued success.
GET READY FOR THE RELEASE
Reading the release notes is a great first step, our Product Support team is also available Monday - Friday from 9 am to 5 pm EST to help with specific questions.
Simply submit a ticket via the Salentica Help Center and our team will reach out to you for assistance.
HOW AND WHEN DO FEATURES BECOME AVAILABLE?
Features have been releasing since October 2021 and will continue to roll out through March 2022.
Platform Release Highlights
Substantial UI (User Interface) Updates
The Dynamics 365 user interface continues to evolve putting efficient, simple-to-use features right at your fingertips.
MOST NOTABLE UI ENHANCEMENTS
Easy record selection in Views and Grids
Open Record in New Window option in the ribbon instead of the footer
See the status inline (instead of the footer) when you're updating a record
Rearrange columns in a sub-grid using "Move" options or drag and drop
Set a default view from the home grid
Enhanced sitemap, making it easier to collapse and expand various sections
New and Improved Features
UPDATED MASS EDIT EXPERIENCE
Get used to a more consolidated experience in the Unified Interface form where you now have access to the form chooser.
FURTHER COLLABORATION WITH MICROSOFT TEAMS
Send automated chat notifications from Dynamics 365 to Microsoft Teams, get notifications for records you're following and have complete control over which notifications you want to receive and when.
DEAL MANAGER WORKSPACE
Think of this as your Sales Dashboard - it has everything you need to know about past or current deals all on one page.
CUSTOM HELP PANES & GUIDED TASKS
Create context-specific help information, including images and videos, that can be accessed quickly and easily.
What Else Is New?
In-App Notifications for Model-Driven Apps
Refreshed Share Records Experience
Improved Sitemap
Edit Model-Driven Apps in the Modern App Designer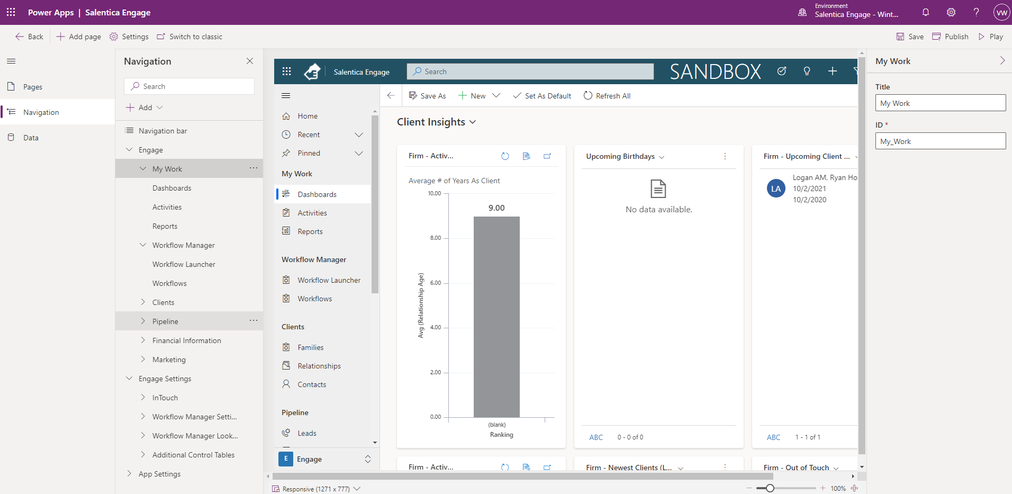 Model Driven Apps in Salentica Engage
---
Data Broker Release Highlights
Increasing Data Broker's Seamless Connectivity with Black Diamond
Data Broker's integration with Black Diamond gives you real-time custodian information as well as portfolio management and financial planning data right in your CRM. In our most recent releases, we've increased the number of data points being passed from Black Diamond for even more access to your client's information.
INTEGRATED FEATURES FOR EFFICIENT CLIENT ACCESS
You can now post activities directly into Black Diamond's Timeline and create and update relationships directly from Engage. Plus add contextual links from that relationship back to the Black Diamond Client View.