As you know Salentica Engage embeds the core of Microsoft's Dynamics365 Sales platform into its' CRM. To steal a line from our Sales Manager Tom, meaning we truly stand on the shoulders of a giant.
So, when Microsoft releases platform updates. Our Engage clients automatically reap the rewards of those enhancements.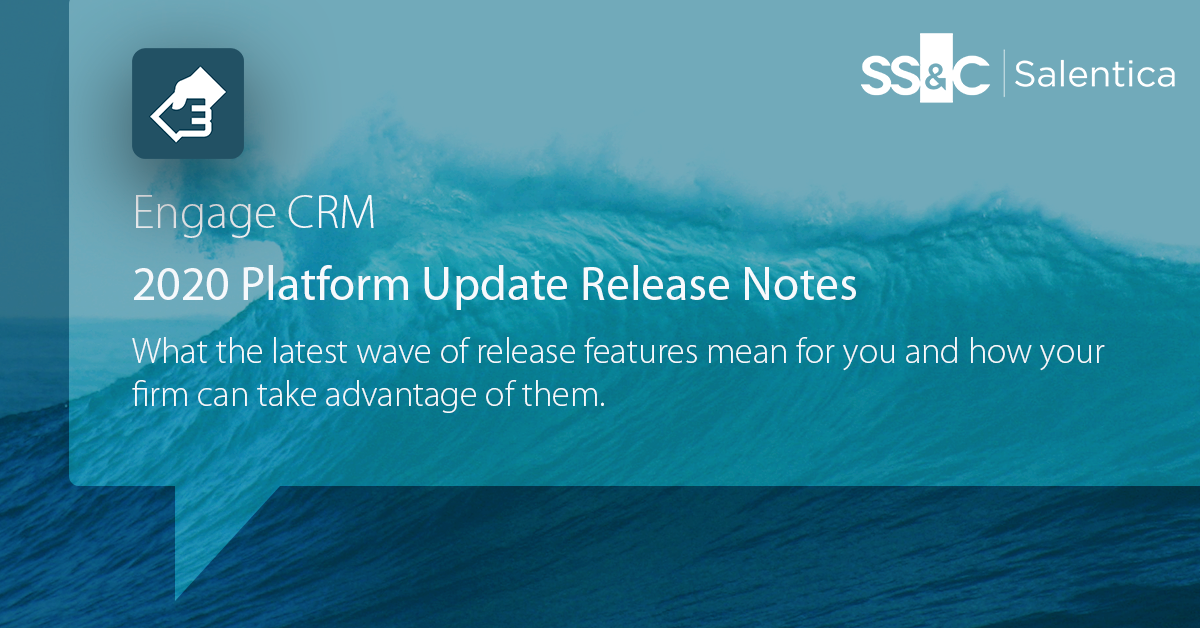 The following article goes over what the latest release features mean, how you can take advantage of them, and some suggested best practices on how to utilize them. But first, some housekeeping:
HOW TO USE THE RELEASE NOTES
Our release notes offer brief, high-level descriptions of enhancements and new features. We sometimes include setup information,links to external articles, tips to help you get started, and best practices to ensure your continued success.
GET READY FOR THE RELEASE
Reading the release notes is a great first step, our Product Support team is also available Monday - Friday from 9 am to 5 pm EST to help with specific questions. Simply submit a ticket via the Salentica Help Center and our team will reach out to you for assistance.
HOW AND WHEN DO FEATURES BECOME AVAILABLE?
Features have been releasing since October 2020 and will continue to roll out through March 2021.
Improved Search, Lists, and Forms
This update brings an improved search experience.
Now providing search suggestions to help steer queries, while search results appear as you type.
Search results will now be organized in helpful groups identified by topic for easier navigation.
Responsive Lists
Responsive lists are designed to reduce clutter and optimize lists for further drill-down and provide the ability to run bulk actions on this defined list.
Forms are now mobile-optimized and include easily scrollable tabs.
This enhanced navigation now also better supports hand gestures on both iOS and Android.
Simplified Duplicate Detection and Merge Capabilities
Clean data is the lynchpin of CRM and something that needs to be respected and considered when adding new or appending existing data inside CRM. This latest update enables users to view more contextual information to help determine why a record is being flagged as a duplicate when you are adding or updating records.
By using the enhanced Merge dialog box users can now merge records while they are being added or updated at the Relationship, Contact, or Lead level, from directly within the "Duplicate Warning" prompt. Without having to navigate into a separate screen.
This enhanced experience replaces the legacy web client hybrid dialog box with a new and fully enabled Unified Interface experience.
Especially useful when you or your marketing team are qualifying Leads. Allowing you to easily view and identify matched Relationahip and Contact records, with an improved cross-entity duplicate detection dialog box.
Create PDF Improvements
These updates will include simplified document template selection, PDF preview, email options and saving PDF files to custom entities.
This release improves the user experience when creating PDFs from Word templates by showing a preview.